WHO DAT? WHO DAT SAY THEY GONNA BEAT DEM SAINTS?
Yes, that phrase is still considered English, and it is the rallying cry of freshly minted undefeated juggernauts, the New Orleans Saints.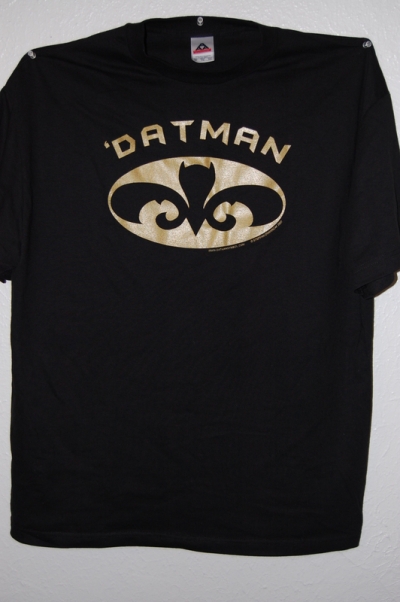 The Saints are legit. With my fantasy football boyfriend Drew Brees leading the charge accompanied by a beastly running attack and inspired defense, this could very well be an epic season.
What better way to embrace this than with some local team gear? The iconic fleur-de-lis AND the Batman logo? All that's missing is a set of exposed Mardi Gras bosoms to complete the cycle of awesome.
To a new-found NFL fan living in Los Angeles, fandom doesn't come easy. I have no team to identify with but collegiate USC, and only because I am bedding a Trojan. This leaves me as a highly coveted free agent fan. Brees is my fantasy keeper, Reggie Bush is a local hero, and this team stands for all that is good (maybe?). I am officially pledging my allegiance, donning said shirt, and finally embracing the fandom I have yearned for.